September,2021
各位親愛的家長及同學:
Dear parents and students,
雖然疫情仍未結束,但經大家的努力,全港的學生總算可以上學了!可惜的是學生只能上課半天,下午未能安排課外活動,我們期盼着疫情的結束,快點回復正常生活!為確保同學們的健康,我們在開學前聘用了清潔公司,為學校進行全面消毒,為開學作好準備。
Although the epidemic is not yet over, all students can now go back to school after all the people are trying their best to fight the virus together. It is shameful that all our students can go back to school for half day only and they are not allowed to have any extra-curricular activities in the afternoon. We hope the pandemic is gone soon and our lives can get back to normal. The school hired specialist disinfection services again to carry out comprehensive disinfection for each room for the preparation of the new school academic year starts. Students will be learning in a safe and clean environment.
九月一日開學了,能夠每天早上在大門迎接同學回來,真是一件開心又幸福的事。 藉着這短暫的一刻,有機會與家長交流,衷心多謝您們對學校的支持及愛護。
On the first of September, the school starts, and I am so glad to welcome all the students to come back to school at the school gate. Also, it is precious moment to talk to parents. I am thankful for all the parents who always shows their support and care to school.
九月的「節目」可真多啊!首先為了學校的宣傳,我在九月四日到附近一所學校向幼稚園家長分享我們的教育理念,好讓有更多的家長及學生認識我們。經我生動的講解後,很高興地得到不少的掌聲,部分家長更向我們索取開放日的資料,希望到校參觀。
There are a lot of 'programs' in September. The school promotion plays an important role. There is a sharing session to the parents from different kindergartens on 4th September 2021. I will share our school mission and vision which will let parents have a clear picture of LTY. I am so happy that parents gave us applauses. Some parents came towards to me and asked about our school. They got the pamphlets for Open Day as they told me they want to visit our school.
九月十一日(星期六),我們舉行了別開生面的開放日,名為「躍動劉德容」。當天除了邀請了幼稚園家長外,我們更邀請本校的一、二年級家長和同學回校參加活動。當天活動非常豐富,在課室裏,首先由我向幼稚園家長講解本校的教學特色,好讓他們真正理解我們對學生的心思、對家長的支持。
Open Day is held on 11th September 2021 which is called 'Invigorate LTY'. Besides the kindergarten students and their parents, our P.1 and P.2 students and parents are also invited. It is because there are plentiful activities provided to students to attempt. Parents and students from kindergartens will visit to a classroom to know about the characteristics of the pedagogical approaches our school apply. I wish to let them understand the rationale of our mission and vision – caring for our students and supporting our parents.
在操場上,我們為大家安排了直立板、獨木舟,平衡車體驗。同學們一看到直立板和獨木舟就興奮不已,一一穿上救生衣嘗試。那是我們高年級的校本課程,好讓低年級同學們體驗一下。而低年級同學最愛的平衡車,我們也打算把這項運動加入校本的體育課程內,令課程變得更多元、更有趣。我相信小朋友喜歡運動,喜歡嘗試,喜歡挑戰,我們就為他們準備不同的平台,讓他們發光發亮。
In the playground, Stand-up Paddle Boarding, Kayaking and Balance Bike have been arranged which has been incorporated into our PE curriculum since last year. When the students saw the Stand-up Paddle Boarding and Kayaking, they are so excited. They put on quicky the life jacket and have an attempt. For the lower form students, they enjoy riding the Balance Bike and we plan to incorporate into our curriculum this year in the second term. All these trendy sports can make our PE curriculum more diverse and interesting. Students who like doing sports, I believe they also love to attempt and face new challenges. We are ready to help our students set a platform for them to show their talents.
在電腦室裏,我們展示同學們設計的STEM作品,同時也準備了一些電腦與體育結合的反應遊戲, 也為同學準備了英文的網上遊戲,好讓同學在遊戲中學習,提高學習興趣。
In the computer room on the ground floor, Some STEM products are shown. Across the curriculum is also shown as the computer and PE are merged to train students' reaction and agility. Also, some English online games are ready for students to learn through playing which can enhance students' learning interest in English.
在視藝室裏,老師們透過故事,製作快樂熊樽,好讓家長和同學都能放鬆心情,享受當下。
In the Visual Art room, teachers tell stories about emotion. Then they teach students how to make a 'Happy Bear Jar' that makes parents and students relaxed and enjoy the moment.
在英文室裏,學校發展的重頭戲出場了!英文科的戲劇表現由外籍老師粉墨登場, 以皮影戲方式呈現,家長及同學對這次表演十分欣賞。今次的開放日場面十分熱鬧,衷心多謝老師的心思及努力。
In the English room, it is the climax among all the activities because it relates to our School Development. Our lovely NET teacher Ms. Ruth and ELTA Mr. Joe wear special costumes to kick off the show. Then a leather-silhouette show is incorporated with special effects which activate your different senses. It is highly appreciated by the parents and students. It is boisterous in this Open Day. I want to give credit to all the teachers who spent lot of times to do the preparation.
九月十二日(星期日)的下午,我前往西灣河文娛中心,欣賞一齣英語話劇「安東尼與克麗奧佩托拉」。這名劇由家傳戶曉的英國詩人莎士比亞所作的,今次劇目作出了改編,邀請中小學學生參加演出。我校5A班的余日顥成功通過兩輪的面試,奪得了一個重要角色(Demeturs)。他更參加了是次滙演的海報設計比賽,取得了冠軍,作品更成為場刊的封面。我知道他在為了這次表演,付出了很多努力。他由屯門到西灣河或其他地方進行綵排及演出,每次回家已經深夜了,但他仍然堅持下去,最重要是父母的支持,為了提供他不同的學習機會,不辭勞苦帶着余同學參與活動,謝謝你們的付出及堅持。
I go to Sai Wan Ho Civic Centre on 12th September, 2021 to watch an English drama called 'Antony and Cleopatra'. The story is written by William Shakespeare who is a well-know poet around the world. However, this is an adapted version and lot of students from secondary and primary schools are invited to do this performance. 5A Christopher YU Yat Ho takes two rounds of interview for the casting and he becomes the successful candidate. He gets on of the important roles called Demetrius. We are so glad that he gets the Champion in the Posters Competition which becomes the cover of the brochure. He really spends a lot of time for this performance. He needs to travel a lot from New Territories to Hong Kong Island for the rehearsal and the performance. It is mid-night when they go back home, and he needs to go back to school next morning. His determination and perseverance are highly appreciated. More importantly, I am touched that his parents give him lot of supports with their unconditional love. For providing him various of learning opportunities, his parents do not have any complaints and just keep on helping me actualize what he wants to be. Thank you so much for your contribution and persistence.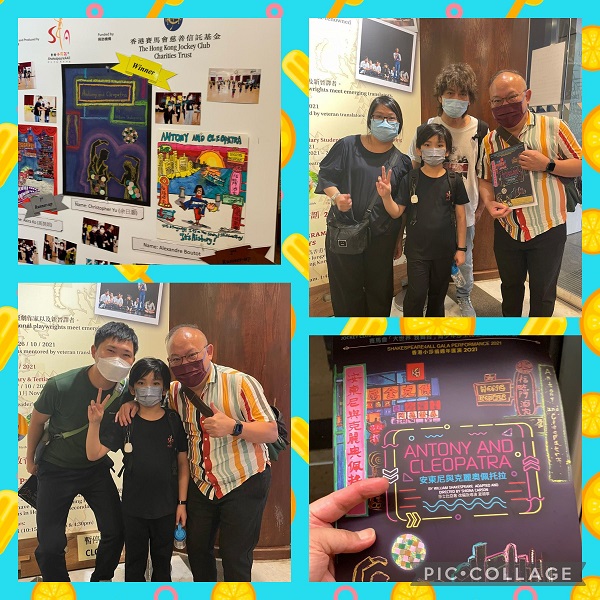 九月十七日及九月二十四(星期五)舉行了一年一度的「班長及風紀就職典禮」,班長及風紀一職能培養學生的責任感和為他人服務的心,希望同學能做好班長的工作,感恩有服務他人的機會。
An inauguration ceremony for the Prefect and Monitors/Monitress was held on 17th and 24th September, 2021. Being a perfect or monitor should be cultivated for the responsibility and serving to others. I wish students who were selected to be the prefect or monitor should try your best to work it out and treasure the opportunity to serve others.
當天,我檢查全校每位同學的手冊,手冊乃身份證明的文件, 同學們應該妥善保存和運用。新一年新開始,所謂「好的開始,是成功的一半。」 希望同學們今年從手冊開始,用心去寫,努力讀書,爭取好成績。
I check every single handbook of each student at the same day. Handbook is such an important document that proves your identity. All the students should keep them well. There is a motto – 'Well begun is half done.' I hope all the student starts from the new handbook and try your best to read more books, to write neatly and study hard for getting good result for own.
當你們努力的同時,視藝科老師都與你們共同進步。學校舉辦了老師的陶藝班,讓老師們加深對製作陶瓷的認識,教授陶藝時更得心應手。
While we are working so hard, some VA teachers want to get improved. Therefore, a class of ceramic art is held for the VA teachers to have deep understanding of making different ceramic pottery and porcelain. They have more confidence when they are going to teacher students how to make ceramic potteries.
九月十五日(星期六)學校再熱鬧起來。田徑組為了區運會取得好成績,已開始練習了,同學們每星期都會到學校進行練習,直至學界比賽完結。
The school becomes hustle and bustle again on 15th September, 2021. The track and field team starts the training for the Interschool competition. They will keep on training until the end of the competition.
八月尾時,學校為老師舉辦了「靜觀工作坊」,效果非常理想。故學校於九月二十五日(六)為家長安排了一場「靜觀工作坊」,希望家長能透過工作坊,保持覺察與平靜,令自己不易被負面的想法和情緒所牽引。訓輔組稍後也會給學生安排一些靜觀活動,令同學有效地處理負面情緒。
At the end of August, a Mindfulness Workshop was held for teachers. We all enjoy a lot. On Saturday, 25th September, 2021 a similar workshop is held for parents to let them learn how to calm down themselves. More importantly, it can help us not to be leaded by the negative feeling and emotion. This workshop will be arranged to our students. The school wish teachers and parents can help their children face the negative emotion and they have the same topic to talk to.
九月二十五日(星期六),陳靖雯老師帶隊參加由勵進教育中心舉辦之升旗比賽,升旗隊隊員在比賽中奪得亞軍,衷心感謝陳老師及同學們的付出,恭喜!
Saturday, 25th September, 2021, Ms. Angela Chan accompanies with some students to join the flag-raising competition which is held by Endeavour Education Centre Limited. Our flag-raising team gets the first runner-up. Congratulations! Thank you very much for Ms. Chan and flag-raising teammates' contribution.
跨境的同學,很久沒有見你們了,很是掛念,我每天也希望你們可以盡快與我們相聚,我會安排一些機會跟你們溝通,就在九月中旬,我與5D的跨境生上了兩天英文網課,我見到跨境同學仍然努力學生,甚是欣慰,學校也會繼續安排一些活動及課堂,希望用不同的渠道與大家保持聯繫。
My dear students in Mainland, we have not met for a long time, and we miss all of you a lot. We wish to meet all of you as soon as possible. I will try to arrange more opportunities to communicate with all of you. In mid-September, I had English lessons with 5D students for two days. I saw them work very hard and it makes me not worry too much. The school will keep on arranging different activities and courses for us to keep contact in different channels.
世界龍岡學校劉德容紀念小學
陳進華校長
Chan Chun Wah, Fred
Principal